City of Raymond
Welcome To Our Website!
The City of Raymond welcomes you to our website designed to help residents and visitors find information about our town. Raymond is a great place to live and work. We have an elementary school, two churches, two parks, 300 homes, and several businesses.
We are located just one mile off Interstate 380 and 7 miles east of Waterloo. 2016 estimated population is 809.
Please explore our website and let us know if there is any information you would like to see added. Thank you for visiting
AGENDA
The City Council of Raymond, Iowa will meet in regular session on September 16, 2019 at 6:00 p.m. at Raymond City Hall.
Meeting called to order followed by roll call
Pledge of Allegiance
Revise or approve agenda
Approval of the Consent Agenda – All items listed under the consent agenda will be enacted by one motion. There will be no separate discussion of these items unless a request is made prior to the time Council votes on the motion
Approve August 19, 2019 regular meeting minutes.
Resolution 1358 authorizing payment of bills and transfers.
Accept and place on file the minutes and reports from the following Boards, Departments and Commissions (N/A=Not Available): Clerk/Treasurer Report (August 2019), Receipts (August 20, 2019 - September 16, 2019), Sheriff's Report (August 2019), Library (N/A).
Inquiries from the Audience
Reports
Fire Department Report – August 2019
Building Permits/Inspections/Code Enforcement Report
Street Department Report
Parks Department Report
Water & Sewer Report
Engineering Report
Old Business
Discuss/Action on new 28E Agreement with Waterloo Water Works–Tabled until Council hears back from Waterloo Water Works.
Discuss/Action on master plumber inspection of 508 S. 3rd sewer line
New Business
Motion to approve Resolution 2019-1356 to fix a Date for a Public Hearing on Proposal to8 Enter into a Sewer Revenue Loan and Disbursement Agreement and to Borrow Money thereunder in a Principal Amount not to exceed $352,000.00
Motion to approve Resolution 2019-1357 FY19 City Street Financial Report.
Motion to approve Annual Urban Renewal Report for FY19
Motion to set public hearing for FY20 Budget Amendment
Communications
Adjournment
City Clerk
Link to the Alert Iowa Website. You can sign up for Alert Iowa warnings: http://entry.inspironlogistics.com/blackhawk_ia/wens.cfm
Hawkeye Valley Area Agency on Aging meals are offered on a contribution basis for people over 60 years of age. Actual cost for the meal is $7.26. People under the age of 60 must pay the actual cost. Meals are offered on a contribution basis to those ages 60 and over. Meals are offered at the United Method Church in Raymond at noon on Wednesdays. For more information, to reserve a place or order a meal, call the Senior Center at 319-874-6849.
September 11th: Grilled Port w/Gravy, Baked Sweet Potato, Mixed Vegetables, Multi-Grain Bread, Sliced Pears
September 18th: Beef Lasagna Bake, Tossed Salad, Cheesy Cauliflower, Texas Bread, Peach Cobbler
September 25th: Honey Mustard Chicken, Baked Sweet Potato, Creole Green Beans, Fruited Gelatin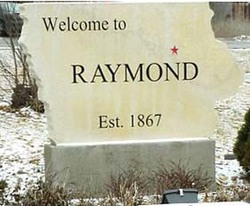 Storm Water Discharge Hotline 319-232-6153
Contact information:
101 1st St.
PO Box 156
Raymond, IA 50667
319-232-6153
319-233-0958 FAX
cityofraymond@mchsi.com
mayorofraymondia@mchsi.com