City of Raymond
Welcome To Our Website!
The City of Raymond welcomes you to our website designed to help residents and visitors find information about our town. Raymond is a great place to live and work. We have an elementary school, two churches, two parks, 300 homes, and several businesses.
We are located just one mile off Interstate 380 and 7 miles east of Waterloo. The 2010 census reported our population at 788.
Please explore our website and let us know if there is any information you would like to see added. Thank you for visiting
AGENDA
The City Council of Raymond, Iowa will meet in regular session on June 19, 2017 at 6:00 p.m. at City Hall.
Meeting called to order followed by roll call
Pledge of Allegiance
Revise or approve agenda
Approval of the Consent Agenda – All items listed under the consent agenda will be enacted by one motion. There will be no separate discussion of these items unless a request is made prior to the time Council votes on the motion
Approve June 5, 2017 regular meeting minutes.
Resolution 1279 authorizing payment of bills and transfers.
Accept and place on file the minutes and reports from the following Boards, Departments and Commissions (N/A=Not Available): Clerk/Treasurer Report (May 2017), Receipts (May 16, 2017 – June 19, 2017), Sheriff's Report (May 2017), Library (N/A).
Inquiries from the Audience
Motion to approve Resolution 1280 – Resolution Authorizing and Approving a Loan Agreement and Providing for the Issuance of a General Obligation Street Improvement Note
Reports
Fire Department Report
Membership changes
Approval of new members
Monthly meeting minutes
Building Permits/Inspections/Code Enforcement Report
Street Department Report
Parks Department Report
Discuss/Action on broken accessible fun hoop at H.E. Pint Park
Water & Sewer Report
Discuss/Action on 2-tier sewer billing system for compliant & non-compliant drainage of sump pump/floor drains/eaves spouts
Discuss charges for water meter replacements.
Engineering Report
Old Business
Discussion of the Wastewater Facility Plan Revision
Discuss/Action on Royal Ridge Retention Pond - Discuss proposed detention pond plat for Royal Ridge Development and gift to City of detention pond and possible action to refer to P and Z for their comment and approval.
Discussion on Raymond Days 2017
Discuss/Action on load embargo roads in city limits.
Discuss/Action on sale of fireworks and amending Ordinance 45 Section 23.
Discuss/Action on Waste Management requesting to change Garbage Picked-up from Thursdays to Mondays effective June 26, 2017.
New Business
Motion to approve Liquor License for New Star Raymond Convenience Store
Motion to approve Cigarette & Tobacco Permit for New Star Raymond Convenience Store
Motion to approve Yard Waste Facility Contract for FY18 (July 1, 2017 – June 30, 2018) with City of Evansdale in the amount of $2,400.00
Motion to approve fireworks display permit to Josh Wittenburg – 145 Taylor Lane
Motion to approve fireworks display permit to Larry Thies – 6801 Lafayette Rd.
Motion to approve fireworks display permit to Richard Hernandez – 110 Hunter Ridge Dr.
Motion to approve fireworks display permit to Tim Gray – 245 Greenbush
Motion to approve fireworks display permit to Kathi Brandhorst - 580 W. Central
Discuss/Action on issuing fireworks permit.
Communications
Iowa League of Cities Conference in Davenport September 27-29.
Adjournment
City Clerk
Link to the Alert Iowa Website. You can sign up for Alert Iowa warnings: http://entry.inspironlogistics.com/blackhawk_ia/wens.cfm
Hawkeye Valley Area Agency on Aging meals are offered on a contribution basis for people over 60 years of age. Actual cost for the meal is $7.26. People under the age of 60 must pay the actual cost. Meals are offered on a contribution basis to those ages 60 and over. Meals are offered at the United Method Church in Raymond at noon on Wednesdays. For more information, to reserve a place or order a meal, call the Senior Center at 319-272-2086.
June 21st: A: Potato Crusted Fish, Macaroni & Cheess, Green Beans, Tropical Fruit, Margarine, Tartar Sauce. B: Beef Taco Salad, Carrott Raisin Salad, Tropical Fruit, Taco Sauce.
June 28th: A: Beef Lasagna Casserole, Green Beans, Mixed Green Salad, Garlic Toast, hot Spriced Fruit, Salad Dressing. B: Stuffed Potato Soup, Cranberry Chicken Salad, Crackers, Mixed Green Salad, Fruit Cocktail, Salad Dressing.
July 5th: A: Baked Chicken Breast w/Gravy, Whipped Potatoes, Broccoli, Multi-Grain Bread, Margarine, Fresh Seasonsal Fruit. B: LIver & Onions w/Gravy, Whipped Potatoes, Broccoli, Multi-Grain Bread, Margarine, Fresh Seasonal Fruit.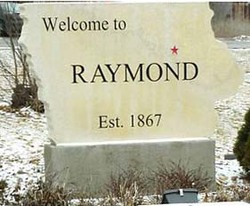 Raymond Days Committe Meeting will be held Sunday, June 11th at 6 PM at Tipsy'z Bar & Grill. All are welcome to attend!