City of Raymond
Welcome To Our Website!
he City of Raymond welcomes you to our website designed to help residents and visitors find information about our town. Raymond is a great place to live and work. We have an elementary school, two churches, two parks, 300 homes, and several businesses.
We are located just one mile off Interstate 380 and 7 miles east of Waterloo. 2016 estimated population is 809.
Please explore our website and let us know if there is any information you would like to see added. Thank you for visiting
AGENDA
The City Council of Raymond, Iowa will meet in regular session on March 19, 2018 at 6:00 p.m. at City Hall.
Meeting called to order followed by roll call
Pledge of Allegiance
Revise or approve agenda
Approval of the Consent Agenda – All items listed under the consent agenda will be enacted by one motion. There will be no separate discussion of these items unless a request is made prior to the time Council votes on the motion
Approve March 5, 2018 regular meeting minutes.
Resolution 1302 authorizing payment of bills and transfers.
Accept and place on file the minutes and reports from the following Boards, Departments and Commissions (N/A=Not Available): Clerk/Treasurer Report (February), Receipts (February 19, 2018 – March 19, 2018), Sheriff's Report (February 2018), Library (N/A).
Inquiries from the Audience
Reports
Building Permits/Inspections/Code Enforcement Report
Street Department Report
Discuss/Action on Street Sweeping Bids.
Parks Department Report
Water & Sewer Report
Engineering Report
Old Business
Discussion of the Wastewater Facility Plan Revision
Discuss/Action on sale of fireworks and amending Ordinance 45 Section 23:
Motion to open Public Hearing for comments from public on proposed Ordinance 203 to AMEND THE CODE OF ORDINANCES OF THE CITY OF RAYMOND, IOWA TO AMEND CHAPTER 45 SECTION 23 PUBLIC OFFENSES
Motion to close public hearing
Motion to pass third reading of proposed Ordinance 203
Motion to adopt proposed Ordinance 203
Discuss new 28E Agreement with Waterloo Water Works.
Discuss possible regionalization of fire departments.
Discuss/Action on citywide spring cleanup.
New Business
Communications
Adjournment
City Clerk
PUBLIC HEARING NOTICE
Notice is hereby given that a public hearing will be held by the Planning and Zoning Commission of the City of Raymond, Iowa at Raymond City Hall located at 101 1st St. in Raymond, Iowa at 6:00 PM on March 22, 2018. The purpose of this hearing is to solicit citizen input on a proposed Ordinance rescinding "rental storage buildings, including mini-storage facilities" from M-1 Zoning district to C-1 Zoning district and to include the following language "provided there is no outside storage".
Any persons wishing to be heard on this matter will be afforded the opportunity to be heard. Written comments will be accepted through 1:00 PM the day of the public hearing. Comments may be sent to City Hall; 101 1st St., PO Box 156, Raymond, Iowa 50667 Oral questions or comments can be directed to City Hall at (319) 232-6153.
Link to the Alert Iowa Website. You can sign up for Alert Iowa warnings: http://entry.inspironlogistics.com/blackhawk_ia/wens.cfm
Hawkeye Valley Area Agency on Aging meals are offered on a contribution basis for people over 60 years of age. Actual cost for the meal is $7.26. People under the age of 60 must pay the actual cost. Meals are offered on a contribution basis to those ages 60 and over. Meals are offered at the United Method Church in Raymond at noon on Wednesdays. For more information, to reserve a place or order a meal, call the Senior Center at 319-272-2086.
March 21th: Pork Loin, Brown Gravy, Red Potatoes, Cabbage, Multi Grain Bread, Fresh Seasonal Fruit, Margarine.
March 28th: BBQ Pork, Confetti Coleslaw, Baked Beans, Hamburger Bun, Hot Slices Peaches.
April 4th: Tater Tot Casserole, Whole Kernel Corn, Harvard Beets, Fresh Seasonal Fruit, Milk.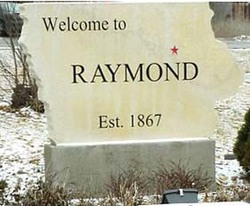 Storm Water Discharge Hotline 319-232-6153
Contact information:
101 1st St.
PO Box 156
Raymond, IA 50667
319-232-6153
319-233-0958 FAX
cityofraymond@mchsi.com
mayorofraymondia@mchsi.com