City of Raymond
Welcome To Our Website!
The City of Raymond welcomes you to our website designed to help residents and visitors find information about our town. Raymond is a great place to live and work. We have an elementary school, two churches, two parks, 300 homes, and several businesses.
We are located just one mile off Interstate 380 and 7 miles east of Waterloo. 2016 estimated population is 809.
Please explore our website and let us know if there is any information you would like to see added. Thank you for visiting
AGENDA
The City Council of Raymond, Iowa will meet in regular session on August 6, 2018 at 6:00 p.m. at City Hall.
Meeting called to order followed by roll call
Pledge of Allegiance
Revise or approve agenda
Approval of the Consent Agenda – All items listed under the consent agenda will be enacted by one motion. There will be no separate discussion of these items unless a request is made prior to the time Council votes on the motion
Approve July 16, 2018 regular meeting minutes.
Resolution 1320 authorizing payment of bills and transfers.
Inquiries from the Audience
Fire Department Report – Moved to August 20, 2018 Council Meeting
Old Business
Discussion of the Wastewater Facility Plan Revision
Discuss/Action on the 28E Agreement with Elk Run Heights
Discuss new 28E Agreement with Waterloo Water Works
Discuss possible regionalization of fire departments.
Discuss/Action on water meter charges
Discuss/Action on potential ordinance for council compensation
Motion to open Public Hearing on Proposed Ordinance Amendment of Chapter 17 City Council Section 17.06 Compensation.
Motion to close public hearing.
Motion to pass waive the second and third reading of proposed Ordinance No. 206 Amending Provision Pertaining to Council Member Compensation.
Discuss/Action on water hook-up charge and monthly charge for non-residential customers.
Discuss/Action on current fireworks ordinance and recent complaints.
Motion to open Public Hearing on Proposed Ordinance Amendment of Chapter 45 Public Offenses Section 23 Fireworks.
Motion to close public hearing
Motion to pass first reading of proposed Ordinance No. 207 amending Fireworks Display Regulations.
Motion to set date for second reading of proposed Ordinance No. 207.
Discuss/Action on fire department assessments.
Discuss/Action on ultra-high pressure equipment
New Business
Discuss/Action on Professional Services Agreement between City of Raymond, City of Elk Run Heights, and MSA Professional Services for the 2018 Anti-degradation Analysis on the proposed wastewater system.
Discuss/Action on bid from Even Tree Service to remove dead Ash tree in City water way.
Discuss/Action on Line Striping Bids.
Discuss/Action on Resolution 1321 – A Resolution of the City Council of the City of Raymond, Iowa Cancelling or Rescheduling the First Monthly City Council Meeting in September due to Labor Day on September 3rd.
Communications
Iowa League of Cities Conference in Council Bluffs September 12-14, 2018.
Adjournment
City Clerk
PUBLIC HEARING NOTICE
Notice is hereby given that a public hearing will be held by the City Council of Raymond, Iowa, at the Raymond City Hall located at 101 1st Street in Raymond, Iowa at 6:00 p.m. on August 6, 2018.
The purpose of this hearing is to solicit citizen input on the proposed amendment to Chapter 45 "Public Offenses" Section 23 "Fireworks" that effectively prohibits the sale, use, or explosion of fireworks within the City of Raymond. This amendment was initiated following resident complaints of danger created from individuals using fireworks within Raymond City limits during the recent independence holiday.
Amend Section 45.23(2) of the Code of Ordinances of the City of Raymond, Iowa by as follows:
Fireworks Display Regulations.
A. It is unlawful for any person to offer for sale, expose for sale, use, or explode any display fireworks; provided the City may, upon application in writing, grant a permit for the display of fireworks by a City agency, fair association, amusement park, other organization, or group of individuals approved by the City. If a permit is granted, such fireworks displays must be handled by a competent operator. No permit shall be granted hereunder unless the operator or sponsoring organization has filed with the City evidence of insurance in the following amounts:
(1) Personal Injury: $250,000 per person
(2) Property Damage: $50,000
(3) Total Exposure: $1,000,000
B. A person who offers for sale, exposes for sale, uses, or explodes display fireworks in violation of this chapter commits a municipal infraction and shall be assessed a civil penalty of not less than three hundred fifty dollars ($350).
The public is invited to attend. A copy of the associated information for this public hearing is on file for review at Raymond City Hall, 101 1st St., 319-232-6153. Any persons wishing to be heard on this matter will be afforded the opportunity to be heard. Written comments will be accepted through the day of the public hearing at Raymond City Hall; PO Box 156; Raymond, Iowa 50667. Oral questions or comments can be directed to (319) 232-6153.
Nancy Miebach
City Clerk
Link to the Alert Iowa Website. You can sign up for Alert Iowa warnings: http://entry.inspironlogistics.com/blackhawk_ia/wens.cfm
Hawkeye Valley Area Agency on Aging meals are offered on a contribution basis for people over 60 years of age. Actual cost for the meal is $7.26. People under the age of 60 must pay the actual cost. Meals are offered on a contribution basis to those ages 60 and over. Meals are offered at the United Method Church in Raymond at noon on Wednesdays. For more information, to reserve a place or order a meal, call the Senior Center at 319-272-2086.
August 8th: Roast Beef, Brown Gravy, Whipped Potatoes, Green Beans, Wheat Roll, Birthday Cake, Milk, Margarine.
August 15th: Lasagna Casserole, Tossed Salad, Seasoned Green Beans, Peach Cobbler, Milk, Italian Dressing.
August 22nd: Italian Pork Loin, Red Potatoes, Cabbage, Multi-Grain Bread, Applesauce, Milk.
August 29th: Honey Mustard Chicken, Baked Sweet Potato, Creole Green Beans, Fruited Gelatin, Milk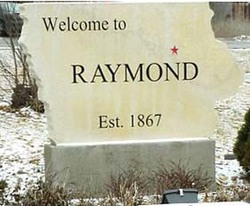 Storm Water Discharge Hotline 319-232-6153
Contact information:
101 1st St.
PO Box 156
Raymond, IA 50667
319-232-6153
319-233-0958 FAX
cityofraymond@mchsi.com
mayorofraymondia@mchsi.com