City of Raymond
Welcome To Our Website!
The City of Raymond welcomes you to our website designed to help residents and visitors find information about our town. Raymond is a great place to live and work. We have an elementary school, two churches, two parks, 300 homes, and several businesses.
We are located just one mile off Interstate 380 and 7 miles east of Waterloo. The 2010 census reported our population at 788.
Please explore our website and let us know if there is any information you would like to see added. Thank you for visiting
AGENDA
The City Council of Raymond, Iowa will meet in regular session on April 17, 2017 at 6:00 p.m. at City Hall.
Meeting called to order followed by roll call
Pledge of Allegiance
Revise or approve agenda
Approval of the Consent Agenda – All items listed under the consent agenda will be enacted by one motion. There will be no separate discussion of these items unless a request is made prior to the time Council votes on the motion
Approve April 3, 2017 regular meeting minutes.
Resolution 1270 authorizing payment of bills and transfers.
Accept and place on file the minutes and reports from the following Boards, Departments and Commissions (N/A=Not Available): Clerk/Treasurer Report (February/March 2017), Receipts (March 21, 2017 – April 17, 2017), Sheriff's Report (March 2017), Library (N/A).
Appointment of new City Councilperson to fill position vacant as of April 3, 2017
Inquiries from the Audience
Reports
Fire Department Report
Membership changes
Approval of new members
Monthly meeting minutes
Building Permits/Inspections/Code Enforcement Report
Street Department Report
Discuss/Action for City Council to consider the bids for the 3rd Street Rehabilitation Project.
Approve Resolution 1271 – A Resolution Awarding Contract for the 3rd Street Rehabilitation Project.
Discuss/Action on Radar Speed Display sign
Discuss/Action on changing speed limit to 20mph by St. Joseph School, which is currently 25mph.
Discuss/Action on estimate to patch pot holes on various City streets.
Parks Department Report
Water & Sewer Report
Discuss/Action on 2-tier sewer billing system for compliant & non-compliant drainage of sump pump/floor drains/eaves spouts
Discuss/Action to approve hiring an archaeologist for the Phase I survey for the Water Main Loop project.
Discuss charges for water meter replacements.
Engineering Report
Old Business
Discussion of the Wastewater Facility Plan Revision
Discuss/Action on Royal Ridge Retention Pond - Discuss proposed detention pond plat for Royal Ridge Development and gift to City of detention pond and possible action to refer to P and Z for their comment and approval.
Discussion on Raymond Days 2017
Discussion on MPO meeting April 13th
Discuss/Action on paying a stipend to the fire department officers and volunteers for calls, training, & meetings – Set date for stipend to take effect.
Discuss/Action on approving outdoor liquor license for Tipsy'z Bar & Grill for Outdoor Service Area from April 15th to July 14, 2017 – Tabled from April 3, 2017 Council Meeting
New Business
Discuss/Action on removing the Mediacom franchise fee
Discuss/Action on City Wide Curbside Clean up
Communications
Adjournment
City Clerk
ADVERTISEMENT FOR BIDS
NOTICE OF PUBLIC HEARING
3rd street rehabilitation
City of raymond
black hawk County, IA
NOTICE IS HEREBY GIVEN: Sealed proposals will be received at City Hall, located at 101 First Street; PO Box 156, Raymond, IA 50667-0156, until 3:00 PM on April 17, 2017 for the 3rd STREET REHABILITATION PROJECT. All bids will be publicly opened and read aloud at that time.
NOTICE IS HEREBY GIVEN: The City Council of the City of RAYMOND will conduct a public hearing on the plans, specifications, form of contract, and estimate of cost for the construction of the above-described improvements on March 20, 2017, at 6:00 p.m. at Raymond City Hall, Raymond, IA. Any interested person may appear and file objections to the proposed plans, specifications or contract. After hearing objections, the City of RAYMOND, shall by resolution, enter its decision on the plans, specifications and contract.
NOTICE IS HEREBY GIVEN: On April 17, 2017 at 6:00 p.m. at Raymond City Hall, Raymond, Iowa, the City Council of the CITY shall consider the construction bids received and either award a contract, reject all bids, or adjourn action thereon to a subsequent meeting of the City Council.
The work for which bids are asked generally includes the following: Cleaning of storm sewer culverts, storm sewer structure and pipe installation, minor site grading, asphalt milling and overlay, full depth 5" asphalt patching, gravel shoulder installation, and pavement striping.
The BIDDING DOCUMENTS may be examined at the offices of MSA Professional Services, Inc., Dubuque, Iowa and the City of Raymond. A plan holders list will be updated interactively on our web address at http://www.msa-ps.com under Bids.
Effective July 1, 2010, per Senate File 2389 Iowa Code Chapter 26.3, paper copies of the BIDDING DOCUMENTS may be obtained at the office of MSA Professional Services, Inc., 400 Ice Harbor Drive, Suite 110, Dubuque, IA 52001 upon receipt of a refundable deposit of $75.00 for half size (11" x 17") sets of plans. Any plan holder upon returning the BIDDING DOCUMENTS within 14 days after award of the project and in good condition will be refunded their deposit.
Additionally, copies of the BIDDING DOCUMENTS are available at www.questcdn.com. You may download the digital plan documents for no fee by inputting Quest eBidDoc #4911553 on the website's Project Search page. Please contact QuestCDN.com at 952-233-1632 or info@questcdn.com for assistance in free membership registration, downloading, and working with the digital project information.
Each BIDDER shall accompany its bid with a bid security as security that the successful BIDDER will enter into a contract for the work bid upon. The bid security shall be in an amount of 5 percent of the amount of the BID. The bid security shall be in the form of a Bid Bond (on the form attached), cashier's check, or certified check drawn on a state chartered or federally charted bank, or a certified share draft drawn on a state-chartered or federally chartered credit union. The Bid Bond shall contain no exceptions.
By virtue of statutory authority, a preference will be given to products and provisions grown and coal produced within the State of Iowa and to Iowa Domestic Labor, to the extent lawfully required under Iowa statutes.
OWNER is designated a Tax Exempt Entity. As such, CONTRACTOR, and any subcontractors, under this contract, shall be provided a Tax Exempt Certificate and authorization letter from the OWNER. Tax Exempt certificate and authorization letter shall be used by CONTRACTOR to secure building materials or equipment intended for completion of this project without payment of sales tax. CONTRACTOR is not mandated to complete Iowa Department of Revenue Form 35002 – Iowa Contractor's Statement upon execution of agreement. CONTRACTOR agrees to this method of sales tax exemption and it shall not be modified during the course of construction.
BIDDER shall satisfy themselves of the accuracy of the estimated quantities in the BID schedule by examination of the site and review of the contract documents; including ADDENDA. After BIDS have been submitted, the BIDDER shall not assert that there was a misunderstanding concerning the quantities of WORK or nature of the WORK to be done.
The successful BIDDER shall be required to furnish a performance BOND and a payment BOND, each in the amount of 100 percent of the CONTRACT PRICE, with a corporate surety approved by the OWNER, within ten (10) calendar days of the date when the NOTICE OF AWARD is delivered to the BIDDER. The NOTICE OF AWARD shall be accompanied by the necessary AGREEMENT and BOND forms. In case of failure of the BIDDER to execute the AGREEMENT, the OWNER may at his option consider the BIDDER in default, in which case the BID BOND shall become property of the OWNER.
BIDDERS must indicate on the BID form the proposed equipment and subcontractors who will be performing the major portions of the work.
No BID submitted by any BIDDER which contains a condition or qualification shall be recognized or accepted by the OWNER and any letter or communication accompanying the BID which contains a condition or qualification upon the BID which has the effect of qualifying or modifying any provision of the contract documents in any manner will be construed as a qualifying BID and will be rejected by the OWNER as non responsive.
No bidder may withdraw his bid within 60 days after the actual date of the opening thereof.
The WORK under contract shall commence on the date set forth in a written Notice to Proceed and shall be substantially completed on or before August 1, 2017 with final project completion reached on or before September 1, 2017.
OWNER reserves the right to waive any informalities or to reject any or all bids.
Published by the authority of the City of Raymond.
CONSULTING ENGINEER:
MSA Professional Services, Inc.
400 Ice Harbor Drive, Suite 110
Dubuque, IA 52001
Jacob R. Huck, P.E.
563-582-3973
Link to the Alert Iowa Website. You can sign up for Alert Iowa warnings: http://entry.inspironlogistics.com/blackhawk_ia/wens.cfm
Hawkeye Valley Area Agency on Aging meals are offered on a contribution basis for people over 60 years of age. Actual cost for the meal is $7.26. People under the age of 60 must pay the actual cost. Meals are offered on a contribution basis to those ages 60 and over. Meals are offered at the United Method Church in Raymond at noon on Wednesdays. For more information, to reserve a place or order a meal, call the Senior Center at 319-272-2086.
April 13th Birthday Meal: A: Roase Beef w/Gravy, Mashed Potatoes, California Vegetables, Wheat Roll, Margarine, Birthday Cake: B: No Alternate.
April 19th: A: Beef Chilli w/Beans, Baked Potato with Sour Cream, Mixed Green Salad, Cornbread, Margarine, Hot Spiced Pears, Salad Dressing. B: Honey Baked Chicken, Baked Potatoe with Sour Cream, Mixed Green Salad, Cornbread, Margarine, Hot Spied Pears, Salad Dressing.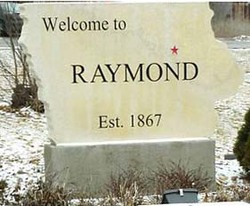 Sheriff Tony Thompson's Town Hall Meeting Tuesday, May 16th at 6:30 PM at Raymond City Hall
The City Council is looking for Raymond residents who are interested in serving on a committee to head up/serve on a Raymond Days Committee. If interested please contact City Hall at 232-6153.