City of Raymond
Welcome To Our Website!
The City of Raymond welcomes you to our website designed to help residents and visitors find information about our town. Raymond is a great place to live and work. We have an elementary school, two churches, two parks, 300 homes, and several businesses.
We are located just one mile off Interstate 380 and 7 miles east of Waterloo. 2016 estimated population is 809.
Please explore our website and let us know if there is any information you would like to see added. Thank you for visiting
AGENDA
The City Council of Raymond, Iowa will meet in regular session on January 20, 2020 at 6:00 p.m. at Raymond City Hall.
Meeting called to order followed by roll call
Pledge of Allegiance
Revise or approve agenda
Approval of the Consent Agenda – All items listed under the consent agenda will be enacted by one motion. There will be no separate discussion of these items unless a request is made prior to the time Council votes on the motion
Approve January 6, 2020 regular meeting minutes.
Resolution 1369 authorizing payment of bills and transfers.
Accept and place on file the minutes and reports from the following Boards, Departments and Commissions (N/A=Not Available): Clerk/Treasurer Report (December 2019), Receipts (December 17, 2019 – January 20, 2020), Sheriff's Report (December 2019), Library (N/A).
Inquiries from the Audience
Old Business
Discuss/Action on new 28E Agreement with Waterloo Water Works
Discuss/Action on Public Works positions
New Business
Review and discuss Ordinance 211, Use of Public Sewers by extending deadline date to June 30, 2020 for sanitary sewer system cross connection removal and extraneous flow fees.
Motion to open public hearing for Ordinance No. 211
Motion to close public hearing
Motion to pass 1st reading of proposed Ordinance No. 211
Motion to set date for 2nd reading or suspend the 2nd & 3rd readings of Ordinance No. 211 and place it up for final adoption.
Motion to adopt Ordinance 211
Discuss/Action on drilling lines to the new wastewater plant for internet access in the amount not to exceed $3,200.00
Motion to set the date of the public hearing for maximum property tax level rate for March 2, 2020
Discuss/Action on purchasing chairs
Reports
Building Permits/Inspections/Code Enforcement Report
Street Department Report
Parks Department Report
Water & Sewer Report
Discuss/Action on PeopleService request to receive all locate requests for Raymond
Engineering Report
Work Session - Begin Budget Development for FY21 and set date for another work session
Communications
Adjournment
City Clerk
Link to the Alert Iowa Website. You can sign up for Alert Iowa warnings: http://entry.inspironlogistics.com/blackhawk_ia/wens.cfm
Hawkeye Valley Area Agency on Aging meals are offered on a contribution basis for people over 60 years of age. Actual cost for the meal is $7.26. People under the age of 60 must pay the actual cost. Meals are offered on a contribution basis to those ages 60 and over. Meals are offered at the United Method Church in Raymond at noon on Wednesdays. For more information, to reserve a place or order a meal, call the Senior Center at 319-874-6849.
January 15th: Hamburger Patty, Lettuce/Tomato/Onion, Whipped Potatoes, Hamburger Bun, Hot Sliced Peaches, Milk, Ketchup.
January 22nd: Cheese Omelet, Roasted Diced Potatoes, Hot Apples w/Raisins, Cinnamon Roll, Milk, Picante Sauce
January 29th: Potato Soup, Tuna Salad, Beet Salad, Multi-Grain Bread, Pineapple Tidbits, Milk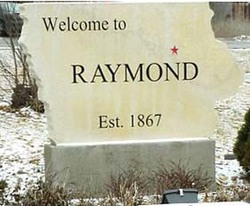 Storm Water Discharge Hotline 319-232-6153
Contact information:
101 1st St.
PO Box 156
Raymond, IA 50667
319-232-6153
319-233-0958 FAX
cityofraymond@mchsi.com
mayorofraymondia@mchsi.com