City of Raymond
Welcome To Our Website!
The City of Raymond welcomes you to our website designed to help residents and visitors find information about our town. Raymond is a great place to live and work. We have an elementary school, two churches, two parks, 300 homes, and several businesses.
We are located just one mile off Interstate 380 and 7 miles east of Waterloo. 2016 estimated population is 809.
Please explore our website and let us know if there is any information you would like to see added. Thank you for visiting
PUBLIC HEARING NOTICE
Notice is hereby given that a public hearing will be held by the City Council of Raymond, Iowa in the Raymond City Hall located at 101 1st St in Raymond, Iowa at 6:00 p.m. on November 6, 2017. The purpose of this hearing is to solicit citizen input on the proposed Ordinance Amendment Chapter 97 Use of Public Sewers.
The proposed ordinance amendment by adding the following Subsection:
97.09 Sanitary Sewer System Cross Connection Removal
This ordinance is meant to address current cross connections in the city's public sewer system. It provides incentives and charges to eliminate such connections.
The public is invited to attend. A copy of the associated information for this public hearing is on file for review at Raymond City Hall, 101 1st St., 319-232-6153. Any persons wishing to be heard on this matter will be afforded the opportunity to be heard. Written comments will be accepted through the day of the public hearing at Raymond City Hall; PO Box 156; Raymond, Iowa 50667. Oral questions or comments can be directed to (319) 232-6153.
Nancy Miebach
City Clerk
The City Council of Raymond met in a regular session on October 16, 2017 at 6:01 p.m. at Raymond City Hall with Mayor Johnson presiding. Vick, Pint, McGowan present. Smith and Niewoehner absent. Mayor Johnson led in the Pledge of Allegiance.
Vick/McGowan motion to approve the agenda. Ayes-3. Motion carried. Vick/Pint motion to approve the Consent Agenda: Minutes of October 2, 2017 regular meeting; Resolution 1291 authorizing payment of bills and transfers; Clerk/Treasurer Report (September 2017 – N/A), Receipts (September 19, 2017-October 16, 2017), Sheriff's Report (September 2017) Ayes–3. Motion carried. October Disbursements: Total $57,829.94; General Fund $17,079.63; Road Use $24,962.50; Sewer $6,863.81; Water $2,974.00; Debt Service $5,950.00; Cap Improv $0.00; SR-LOST $0.00; SR-TIF $0.00
September Receipts: Total $65,488.45; General Fund $12,408.79; Road Use $10,302.46; Special Rev. (LOST) $7,442.95 ;SR-TIF/UR $14,233.42; Debt Service $3,054.00; Water Utility $7,473.77; Sewer Utility $10,573.06; Cap Improv $0.00
Bills:
Payroll $ 2,728.33 MidAmerican Energy $1,143.04
CenturyLink $ 171.08 Waterloo Courier $ 149.76
Aspro, Inc. $22,448.61 Black Hawk Co. Sheriff $5,842.19
Menards $ 199.70 Petty Cash $ 50.00
Becky Pint $ 192.74 Card Services $ 204.01
City of Elk Run Heights $ 6,000.00 Dorsey & Whitney, LLP $3,500.00
Fire Service Training Bureau $ 2,450.00 IMWCA $ 671.00
INRCOG $ 188.11 IPERS $ 471.07
IRS $ 20.38 Joe Jones, Jr. $ 500.00
MSA Professional Services $ 5,453.35 Nancy Miebach $ 25.00
Roberts,Stevens,Prendergast $ 1,281.25 State of Iowa $ 368.00
Waste Management $ 3,530.03 Waterloo Water Works $ 243.19
Inquiries from the Audience –None.
Building Permits/Inspections/Code Enforcement-Nothing new to report on building permits. Code Enforcement investigated water runoff issue on the new home being built on the corner of 7th & Lafayette, and an issue of loud music/noise after midnight was addressed. Councilperson Vick stated there is a boat sitting in a backyard of a home on Lafayette Rd. that needs to be addressed. Discussion was held regarding the storage containers at the commercial building on Commercial St. and also a question was asked if a variance that was granted for a non-opaque fence can be revisiting.
Street Department–City Clerk stated City Engineer did not think we had enough time to get bids out to install curbing around the stop signs on Dubuque Rd. and Commercial St. so City Engineer was going to get bids together and have Council review in March of 2018. Pint/McGowan motion to table until March 2018. Ayes-3. Motion carried. Public Works stated the person mowing around the raised manholes north of Lafayette Rd. will now be mowing the ditch on West Lafayette down to AmeriGas and will charge $150 each mowing. City Clerk to notify Waterloo Water Works and ask when they are going to repair the road west of the west lift station that was tore up during the water leak.
Discuss/Action Snow Removal Bid-One bid was received from Whole Excavation, LLC. Per bid all streets will be plowed at least once before 6 a.m. and on call after 6 a.m. or under 2" snow. Pickups & Straight Blade $80 per hour; Dump truck with 10 foot plow $115 per hour; Skid loader $85 per hour, End loader $150 per hour, Sand/Salt $105 per ton. Snow events after 6 a.m. will be plowed and sanded every 2". Vick/Pint motion to approve Whole Excavation, LLC bid. Ayes-3. Motion carried.
Parks Department-The plastic basketball hoop that was cracked has been fixed at a cost of $40. Council decided to wait until spring 2018 to install. Still working on getting the ice skating rink installed.
Discuss/Action on 2-tier sewer billing system for compliant & non-compliant drainage of sump pump/floor drains/eaves spouts–Tabled until Public Hearing on November 6, 2017.
Discuss charges for water meter replacement –Tabled until January 2018.
Discuss/Action on Wastewater Facility Plan Revision-Mayor Johnson met with Evansdale Mayor, Evansdale City Engineer, Elk Run Heights Mayor, Jason Miller and Jake Huck with MSA Professional Services, and Shoff Engineering last Thursday. Jason Miller had a preliminary drawing of what the wastewater treatment plant would look like and additional buildings that would be needed if Evansdale were going to have their sewage pumped to our current plant. Evansdale's sewage plant is in a flood way; in a flood way you can't do anything to the existing sewage plant. Evansdale would have to build a 40 foot high ring dam around their sewage plant and a bridge that would allow 24/7 access to their sewage plant. Flows over 1 million gallons per day will require disinfection; Raymond and Elk Run Heights already have had flows over 1 million gallons a day, so disinfection will be required. Evansdale has 36 months from EPA deadline to have a new plant operational and currently must have UV protection now. Evansdale is in the processing of filing an extension with the EPA since they are working with Raymond and Elk Run Heights on possible regionalization. Jason Miller informed Evansdale they are a year and a half out for construction and permitting for a new plant. Evansdale is currently charge $42 per quarter for wastewater treatment to their citizens. Jason stated MSA could do more planning to incorporate Evansdale into the waste water treatment plant for $5,000. Mayor Faas stated he will be bringing this before his Council at their meeting on October 17th. Jerry Shoff suggested a memorandum of agreement, a letter of intent, between the three cities, to continue to work together in planning for expansion of the current waste water treatment plant to include Evansdale.
Discuss/Action on sale of fireworks and amending Ordinance 45 Section 23 – Tabled until January 2018.
Discussion of an All-Terrain Vehicle-P&K Midwest quoted $17,441.01 for a JD XUV825i. This did not include a snow blade. Mayor Johnson instructed City Clerk to get other estimates from other local dealers. Discussion was held on a used ATV versus new and if there really is a need for an ATV.
Vick/Pint motion to set Raymond Trick-or-Treat hours for October 31st from 6 pm to 8 pm. Ayes-3. Motion carried.
Vick/McGowan motion to approve Urban Renewal Report for FY17. Ayes-3. Motion carried.
Communications –Reception with the Iowa Supreme Court Justices will be November 2nd at Gallagher-Bluedorn from 5 pm to 6:30 pm and oral arguments begin at 7 pm at the Cedar Falls High School Auditorium
Pint/McGowan motion to adjourn at 7:10 p.m. Ayes-3. Motion carried.
Nancy Miebach, City Clerk
AS OF OCTOBER 20, 2017 THE CITY OF RAYMOND HAS ONE SEAT ON THE CITY OF RAYMOND BOARD OF ADJUSTMENTS. THIS IS A VOLUNTEER POSITION. IF YOU OR ANYONE YOU KNOW MIGHT BE INTERESTED IN SERVING ON THIS BOARD, PLEASE CONTACT CITY HALL @ 232-6153 or E-MAIL: CITYOFRAYMOND@MCHSI.COM
OR REGULAR MAIL: PO BOX 156
RAYMOND, IA 50667
Link to the Alert Iowa Website. You can sign up for Alert Iowa warnings: http://entry.inspironlogistics.com/blackhawk_ia/wens.cfm
Hawkeye Valley Area Agency on Aging meals are offered on a contribution basis for people over 60 years of age. Actual cost for the meal is $7.26. People under the age of 60 must pay the actual cost. Meals are offered on a contribution basis to those ages 60 and over. Meals are offered at the United Method Church in Raymond at noon on Wednesdays. For more information, to reserve a place or order a meal, call the Senior Center at 319-272-2086.
October 11th Birthday Meal: A: Roast Beef w/Gravy, Mashed Red Potatoes, Green Peas, Dinner Roll, Margarine, Frosted Birthday Cake. B: No Alternate.
October 18th: A: Baked Chicken Breast w/Chicken Gravy, Oven Roasted Potatoes, Sliced Carrots, Multi Grain Bread, Margarine, Fresh Seasonal Fruit. B: Potato Ham Soup, Roast Beef & Swiss Cheese, Multi Grain Bread, Mayo, Carrot Raisin Salad, Fresh Seasonal Fruit.
October 25th: A: Pork Loin w/Gravy, Mashed Red Potatoes, Green Peas, Wheat Bread, Margarine, Cinnamon Applesauce. B: Beef Vegetable Soup, Egg Salad, Wheat Bread, Ranch House Tomatoes, Cinnamon Applesauce.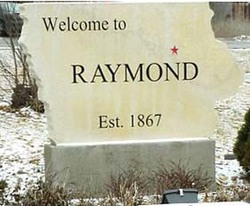 Storm Water Discharge Hotline 319-232-6153
Contact information:
101 1st St.
PO Box 156
Raymond, IA 50667
319-232-6153
319-233-0958 FAX
cityofraymond@mchsi.com
mayorofraymondia@mchsi.com